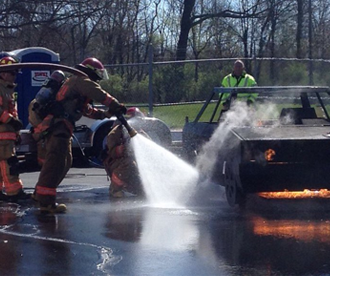 Miami Twp Fire & EMS takes every opportunity to improve the knowledge, skills and abilities of its fire and EMS personnel. Crews complete over 13000 staff hours of training each year. The Training Division Captain, the Training Committee, and a cadre of instructors train the crews in the latest and greatest techniques and methods in both fire and medical specialties. The instructor core consists of 14 EMS, 11 EMS Continued Education, 20 Fire, and 1 Fire Safety Inspector instructors. These instructors use many different methods to instruct the crews. These methods include using the training tower at Live Oaks, a multi-department burn trailer, a multi-department live burn structure, multiple burn props, an Adult and Pediatric Human Patient Simulator, acuity testing, and a classroom setting at the Public Safety Training Center. The training center is shared between the fire and police departments.
All newly hired personnel are put thru a vigorous two week long routine of trainings in order to get them up to speed. Afterwards they are paired with a Preceptor to finish their orientation period. These Preceptors are experienced members of the department who are willing to share their knowledge.
Miami Twp Fire & EMS continues to try to provide the best coverage for its citizens thru many different means. The department has an extensive collection of Operating Procedures (OP's) which help the crews plan for, prepare and operate at emergencies. After any serious incident, the crews go thru an extensive Post Incident Analysis process to determine ways to improve our procedures.