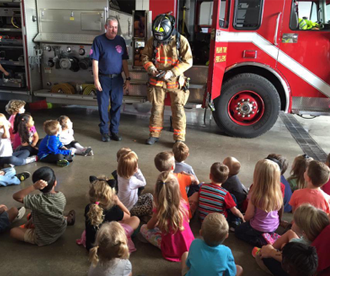 Miami Twp Fire & EMS works hard with the citizens and business owners of the township to prevent and quickly contain fires in businesses and homes around the township. The department does this thru the use of business and home fire safety inspections, school visits and smoke detector installations.
Miami Twp has a total of 52 Fire Safety Inspectors who complete more than 2300 business inspections annually. During these inspections they look for many different types of fire code violations such as emergency exit access and storage issues in an effort to improve the overall safety of the business for its employees and patrons. A fire can result in a business having to close for an extended period of time, if not permanently, which can have an adverse impact on the community as a whole.
The fire department visits all of the schools and preschools in the township, as well as hosting many local groups, to teach the children about fire safety. Topics include how to call 911 in an emergency, the importance of sleeping with your bedroom door closed, having two ways out of the house, and some of the hazards that are usually found around the house.
Miami Twp Fire & EMS further assists the public with fire prevention by helping to install
smoke detectors
in their homes. Crews also respond out to assist with changing smoke detector batteries.