••• Saturday, JUL 16,
Model Behavior
,
Community Park
, 6:00 pm
Midewest Best BBQ • Kona Ice • Beverage Sales (Little Miami River Chamber)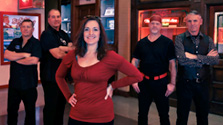 Model Behavior
is a professional, entertaining, high-energy 80's tribute band that plays a wide variety of 80's party rock! We play the tried and true crowd favorites from bands like Journey, Bon Jovi, Joan Jett and Led Zeppelin but we're unique because we also play a wide selection of songs other bands don't play. When was the last time you saw a live band cover dance and party tunes from artists such as A Flock of Seagulls, The Cure, Til Tuesday, The Stray Cats, Quarterflash, and KC & The Sunshine Band.
Model Behavior creates a party atmosphere wherever they go. They'll have you dancing and singing along with in no time and don't be surprised if they invite you on stage and give you the "rock star" treatment.
If you're looking for fun the answer is Model Behavior!
---
••• Saturday, JUL 30,
The WannaBeatles
,
Community Park
, 6:00 pm
A Taste of Mexico • Kantine on Wheels • Beverage Sales (Milford Miami Township Chamber)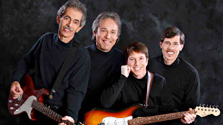 Get ready for a different kind of Beatles experience that combines great Beatles classics with hilarious on stage antics, audience involvement and award winning entertainment - a Grammy Nominated Beatles Tribute Show! When it comes to recreating the fun and excitement of the most popular band in music history, The WannaBeatles more than live up to their name. As befits their Grammy finalist status, they are the only tribute act to have written songs for fellow nominees Paul McCartney and Betty White. The videos for "We Wanna Meet Paul" and "Oh Betty! (The Betty White Song) have brought smiles to fans and concert goers alike. The career of The WannaBeatles parallels that of their mentors. Like The Beatles, whose career began at an underground Liverpool venue called The Cavern Club, The WannaBeatles got their start playing at a Mexican restaurant in Nashville where "Beatles and Fajitas" were the chosen fare.
For Dennis Scott, Bryan Cumming, Nathan Burbank, and David Toledo it was love at first note!
---
••• Sunday, AUG 14,
Shakespeare in the Park
•
The Twelfth Night
,
Community Park
, 7:00 pm
Funnel Vision • Hometown Swirl • Streetpops.com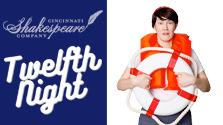 Shipwrecks, love triangles, and mistaken identities abound in this lively rom-com on an island where everyone is in love with someone - and the wrong person loves them back. Bursting with vitality and romance, "Twelfth Night" features one of Shakespeare's most dynamic heroines, Viola, matching wits with a host of captivating characters. As Shakespeare comedies go, "Twelfth Night" is one of the greats; a fun celebration that embraces the silliness of love and is perfect for the whole family!
=========================================================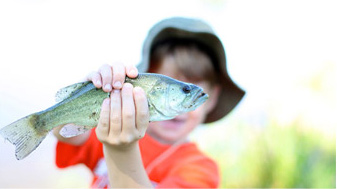 Kid's Fishing Tournament
Catch & Release
Saturday, SEPT 10
Miami Meadows Lakeside Pavilion
Do not miss out on the fun and excitement of the Kids Only Fishing Tournament. There will be prizes awarded for several age groups who have the largest (weighing the most) fish! Registration is required at Lakeside Pavilion at 9:00 a.m. and the Tournament is from 10:00 am until noon. Children require adult supervision. Weigh-ins can be done anytime during tournament with final weigh-in at the end of the tournament. Only live fish will be weighed. Stringers are prohibited. Only fish baskets or buckets can be used. An Ohio State Fishing License may be required for persons aged 16 through 65 who have resided in Ohio for the past 6 months. Only 1 pole per child will be allowed and you must bring your own.
Recreation Info & Links
Downloads & Documents